The Mayday Project Responds to Dr. Paul Auwaerter's Defense of IDSA Guidelines for Lyme Disease
Friday, November 07, 2014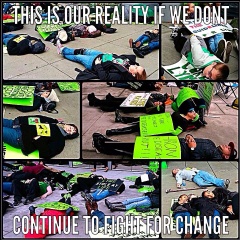 "My office uncovered undisclosed financial interests held by several of the most powerful IDSA panelists. The IDSA's guideline panel improperly ignored or minimized consideration of alternative medical opinion and evidence regarding chronic Lyme disease, potentially raising serious questions about whether the recommendations reflected all relevant science." – Connecticut Attorney General Richard Blumenthal in a May 2008 press release.
The Mayday Project welcomes the response by Dr. Paul Auwaerter to our concerns about the IDSA guidelines for diagnosis and treatment of Lyme disease, which were discussed in a recent Medscape article about Mayday's outreach to IDSA members at the IDWeek medical conference in October 2014.
Dr. Auwaerter's statement that there can be "productive collaboration among advocacy groups" was especially encouraging.
Mayday also appreciates the open-mindedness of the doctors and researchers who spoke with us at IDWeek, and those who read our open letter to IDSA members (https://tinyurl.com/IDSAletter). We gained valuable insight into the complications of battling emerging diseases, such as Lyme, and a better understanding about the dangers related to overuse of antibiotics.
However, we take issue with Auwaerter's statement that "the recommendations in IDSA's guidelines are safe, effective…"
If the guidelines are effective, why do so many people remain chronically ill despite receiving the treatment specified by the guidelines? If the guidelines are effective, why are so many patients who are later confirmed to have Lyme misdiagnosed by doctors who follow the guidelines?
Dr. Auwaerter's statement that "IDSA considers all relevant scientific information when developing its guidelines" is also misleading.
If that statement is true, then why haven't the guidelines been updated to reflect the abundance of evidence for chronic Lyme disease that has accumulated over the past twenty years? Of the more than 300 peer-reviewed articles that support the existence of chronic Lyme, certainly some must be contain relevant scientific information.
A fundamental problem is that the CDC definition of Lyme disease is so restrictive that the true scope and spread of the Lyme epidemic has been vastly underreported….
…
The Mayday Project believes the following are required to fix the current guidelines and prevent similar trouble in the future:
– Adherence to the principles of evidence-based medicine.
– Inclusion on the panel of physicians whose practice focuses on treating Lyme patients.
– Inclusion of panelists with divergent viewpoints.
– Removal of the requirement for a positive test for diagnosis.
– Expansion of the definition of Lyme disease to includes all species of Borrelia that cause disease, or define a new disease called "Borreliosis.
Stay safe in the outdoors
Your support can change lives