Lyme disease isn't just Borrelia burgdorferi and Lone Star ticks do transmit Lyme disease study proves.
UNF Researchers Make Big Discovery About Lyme Disease
[CanLyme note: Lone star ticks will make their way into Canada and are much more aggressive than the black-legged (deer tick) species.  We at CanLyme have also been stating for years that Lyme disease is a borreliosis, not only caused by Borrelia burgdorferi… the significance of this is that all research used to support the Infectious Disease Society of America guidelines including that which defines the symptoms, testing, treatment, etc. is all only based upon Borrelia burgdorferi strain B31, making their guidelines a very weak, unproven, poorly researched, harmful document that should never be used in healthcare]
—
By Melissa Ross
It's a groundbreaking medical finding on the UNF campus.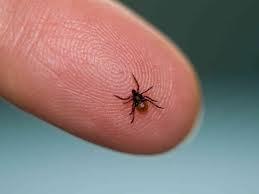 Credit www.npr.org
Lyme disease is spread by ticks. It's becoming more common in the Southeast and Florida.
Dr. Kerry Clark, University of North Florida associate professor of public health, and his colleagues have found two species of Lyme disease bacteria previously unknown to infect humans in patients.
These two Lyme disease species, Borrelia americana and Borrelia andersonii, were found in symptomatic patients living in the Southeastern United States. The commonly found lone star tick, formerly believed by many to be incapable of transmitting Lyme disease, was implicated in some of these cases.
Stay safe in the outdoors
Your support can change lives